What are design jobs?
Designer types and
useful qualifications for career changes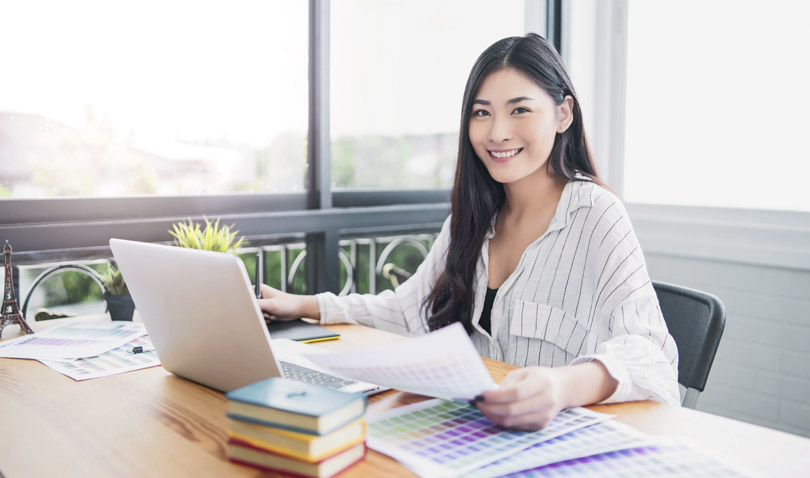 For designers, the job content, necessary skills, and working style all greatly differ depending on the kind of design job.
Here we introduce information on designer job types and job contents that is useful for both aspiring designers and those who want to further their careers in the design industry.
What exactly is the job of a designer?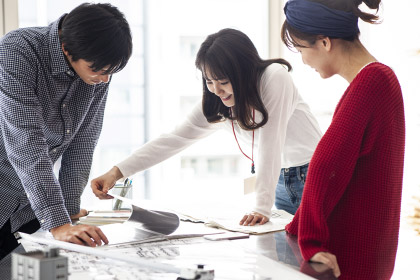 The job of a designer is to use design to solve issues regarding the services and products of clients and requesters.
The main role of a designer is to have people move toward the goals that clients need them to. For example, with visual design such as posters, the goal is to convey a message, and for product design, the goal is creating a form that is easy to use and that users will be fond of.
People working in design do not just need to be good at design. They also need a wide range of other skills, including the ability to read client intentions, communication skills, and presentation skills for communicating the aim of a design.
Design Job Categories
Design jobs exist in all kinds of places in our everyday lives. They exist for furniture and clothes which we touch directly with our own hands, as well as buildings such as stores and offices, and websites and other information and advertisements.
The design field can be broadly broken down into categories such as visual design, product design, and space design. Besides these, there are countless fields that design is involved in.
Design Job Types
Visual Design
Poster design, pamphlet design,website design, etc.
Product Design
Packaging, goods, interior, etc.
Space Design
Space design, stage design, etc.
Visual design types and job content
Visual design is a design genre that is deeply involved in the internet and printing industries.
Here, we explore the broad categories of visual design and its job contents.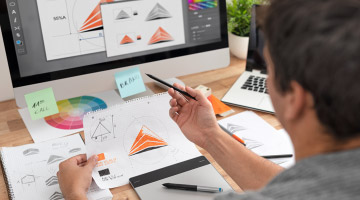 Graphics refer to visual expressions that aim to communicate information.
In the design industry, graphic design mainly refers to design involved in printed materials. Graphic designers work in a wide range of fields, including leaflets, posters, pamphlets, and book covers.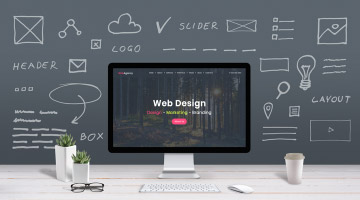 Web designers plan and produce websites in accordance with the site's target audience and objectives.
Web designers do not just create visuals. They need a wide range of knowledge and skills, such as video and photograph direction as well as coding instructions.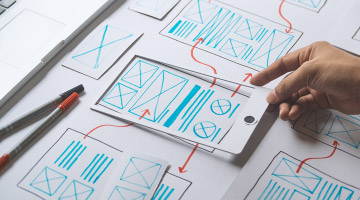 These jobs involve designing experiences that are easy to use and enjoyable for users, in digital fields such as websites and smartphone apps. UI designers and UX designers are often confused with each other. However, there is a clear line between the roles that both positions have.
The role of a UX designer is to design a line of movement to an experience that provides enjoyment and comfort to users. For example, let's take the crumpling sound effect that plays when a user throws a document into their recycle bin. This sound takes the unpleasant action of throwing something away and changes it into a comfortable, enjoyable experience. UX design is not just limited to digital fields. All UX design involves moving people's psychology, and creating flowlines to pleasantly move people toward the desired action.
On the other hand, the role of UX designers is to pursue ease of use for users, including easy to read text and large buttons that are easy to see. These elements are reflected in the visuals. UI can be understood as one step in realizing UX.
UX Designers
*Create designs that provide pleasant experiences for users.
UI Designers
*Pursue ease of use for users, which is reflected in the visuals.
*One step in realizing UX.
Editorial designers create published paper materials such as books, magazines, catalogs, and pamphlets in accordance with the concept of the medium and arrange elements to be easy to read and visually appealing.
Generally, designing a book is the role of book designers. However, there are cases in which editorial designers work on the process from design to the actual text.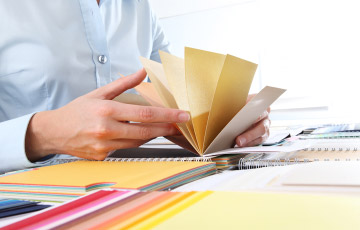 The main role of book designers is to make the appearance of a book, including its binding and cover.
They direct all aspects of the visuals, including graphics, paper quality, and printing techniques, and give form to the planning and concept of a book.
Visual design types and job contents
Design requires a wide range of knowledge and skills. These include knowledge about hues and printing, as well as skills in using Illustrator and Photoshop.
If you have no experience and are aiming to either get a design job or change industries, it can be useful to acquire qualifications, which can prove you have basic knowledge to work at a business level and skills to use design tools.
However, business level skills are the most important thing in design work. Acquiring qualifications is useful, but it's not a mandatory condition for getting design jobs. It's best to think of qualifications as one way to promote your skills and knowledge when looking for jobs or changing careers.
What design jobs can be done at home?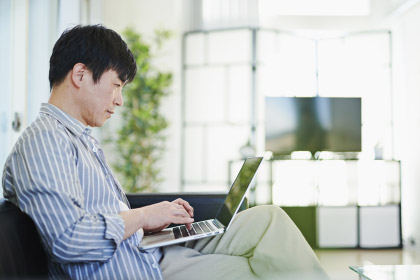 Web designer and UI/UX designer jobs can be done at home if you have a PC and internet environment. These design jobs can be done relatively easy in a home environment.
However, some design jobs involve confirming and adjusting the image you have in mind when you create output. These include graphic designers, editorial designers, book designers, and any job that works with the printed medium. In these positions, in person communication is very important.
Similarly, product design and space design positions require design adjustments while looking at the actual item or site. These jobs cannot be done only at home.
All design jobs require presentations to clients and opinion exchanges among team members, regardless of whether the job is done at home or in the office. You should strive to be a designer that has high communication skills and can smoothly work at home.